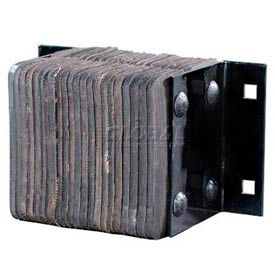 Extra-Thick Loading Dock Bumpers
Greater "Stand-Out" Distance Helps Prevent Loading Dock and Truck Damage!

These Extra-Thick Dock Bay Bumpers are constructed of tough piles of truck tire material that virtually eliminates vehicle and building damage associated with inadequate dock protection. Enhanced 9" deep projection is ideal for use with overly thick dock seals or where greater thickness is needed due to steep decline approaches. Bumpers are constructed with two extra-thick steel formed angles under approximately 1500 lbs. of pressure and are designed to absorb over 80% of impact force. Structural mounting angles permit welded or bolt-on installation to surface, and anchor bolts (not included) are protected by a minimum of 3" of rubber to help prevent damage. Maintenance free and weather resistant wall bumpers have an attractive deep black color that offers the shipping area a neat, professional look.