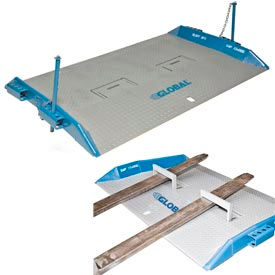 Bluff® "Blue Pin" Heavy Duty Steel Dock Boards
Forkliftable Dock Boards allow Easy, Adjustable Positioning between the Truck and Dock.

Steel Dock Plate features fold-down lifting loops that allow a forklift to transport and position. Heavy duty Dock Board includes two 1" diameter positioning pins and two 4-position pin pockets on each side to provide exact and secure placement of the board between the dock and the truck. All welded steel construction makes these dock plates used for high traffic cycle and multiple shift docks. Includes one 7° bend 17½" from the dock end and one 9° bend 8" from the truck end. Comply with OSHA spec. 1910.30(A) and ANSI spec. MH30.2.

NOTE:
CAPACITY is the combined weight of your maximum pallet load and lift truck. Capacity is rated for a single shift with equipment speeds of 3 mph maximum.

WIDTH should be 12" greater than lift truck or load. Usable width is 6" less than overall width.

Stackers and other narrow aisle loaders should not be used on a Dockboard. Refrigerated trucks require special dock plates; please call for information.

** The HT" DIFFERENCE UP is the height difference above the dock.
14% Grade applies to Pallet Trucks and Electric Forklifts. 19% Grade applies to Gas Powered Forklifts.