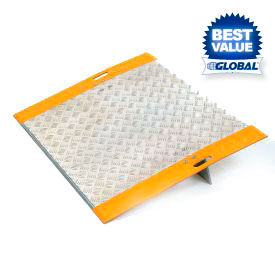 High-Traction Aluminum Dock Plates
High-Traction Aluminum Dock Plates Provide Improved Safety For Dock and Truck Equipment Needs.

High-traction Aluminum Dock Plates are designed to withstand heavy traffic. Built-in hand holds provide easy mobility. 11" apron with beveled edges and an 11° crown provides smooth, efficient entry and exit. Bottom of dock plate includes a bolted safety stop to keep plate in position. Note: Purchase dock plate 12" wider than anticipated load. Not for use with rider type trucks. Complies with OSHA spec. 1910.30(A). Rugged, lightweight 3/8" thick aluminum dock plates provide lasting wear resistance. Dimensions vary per model.