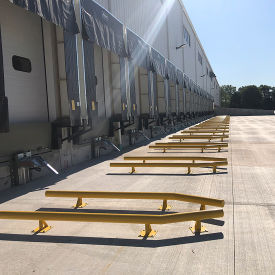 Loading Dock Wheel Alignment Curbs
Dock Bay Alignment Curbs are used for Properly Aligning Trucks & Semi-Trailers at Loading Docks.

Wheel Guides help to safely position reversing trailers at the loading dock. Installed on either side of the loading dock approach, Wheel Guides ensure the truck is safely and accurately directed to the dock door. Wheel Guides can be especially important in avoiding collisions with neighboring trailers. Strong steel construction and power-coated Safety Yellow. Lengths Range from 95-1/2" to 144". Dimensions and additional specifications vary per model.