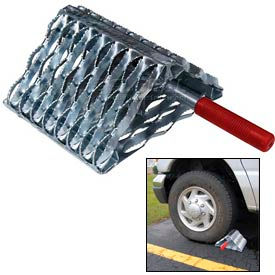 Steel Grate Wheel Chock
Steel Grate Wheel Chock Prevents Accidental Vehicle Movement for Trucks, SUV's, Vans, and more.

This wheel chock is made of steel for long lasting durability and dependability. Steel Grate Wheel Chock grate-style exterior provides maximum grip leaving vehicle secure. Corrosion resistant galvanized finish withstands the harshest environments. Includes a 5" handle with grip for easy positioning. Recommended use in pairs. Meets OSHA requirement 1910.178(k)(1). Available size is 11" L x 9" W x 5" H. Weight is 10 lbs. Package quantity is 1.