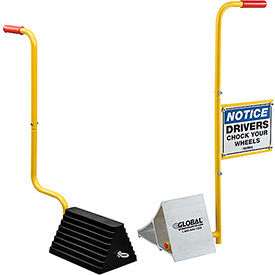 Specialty Wheel Chocks & Signs
Specialty Wheel Chocks and Signs Secure Wheels to Prevent Accidental Vehicle Movement.

These chocks and signs provide security from accidental rolling or movement during maintenance or storage, and feature a non-slip surface for superior traction. Most models comply with OSHA standards.

OSHA Requirement 1910.178(k)(1) states that "The brakes of highway trucks shall be set and wheel chocks placed under the rear wheels to prevent the trucks from rolling while they are boarded with powered industrial trucks.