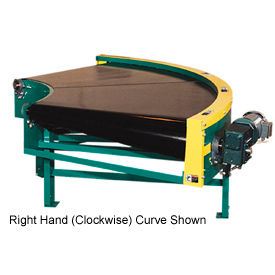 Omni Metalcraft Power Belt Curve Conveyors
Power Turn Belt Curve Conveyors transport products of various Sizes and Shapes while Maintaining Proper Product Orientation.

Omni Metalcraft Power Belt Curve Conveyors are used in light duty package handling industries, as well as rough, abrasive environments. Power Curve Conveyors are made with 10 gauge rolled, welded, and painted steel frame and slider bed. Standard 60 (± 5) FPM non-reversing conveying speed (measured at centerline radius). Power curved turn conveyors include permanent leg supports with 34" to 38" surface height adjustments. Tapered and lagged drive and tail pulleys. Sealed and pre-lubricated mounted bearings. Totally enclosed 115/230V, 60Hz single phase motor with 10 ft. power cord and on/off switch for 115V use. Drive Motor is located at discharge (exit) end to pull product through curve.

Other outside radii, belt widths and voltages are available; call for information.

Right Hand (Clockwise) and Left Hand (Counter Clockwise) curves are available; specify curve suffix: (R) Right Hand or (L) Left Hand.