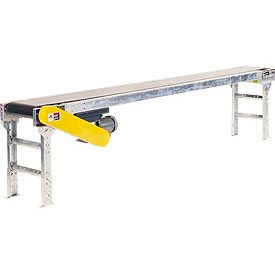 Omni Metalcraft Power Belt Conveyors
Omni Metalcraft Power Belt Conveyors provide versatile Material Handling for Factories, Warehouses, Packaging Facilities and other Industrial Applications.
Omni Metalcraft Power Belt Conveyors ship complete with included controls for long lasting use. Flat Belt Conveyors are made with a durable 3-1/2"D x 12-gauge galvanized steel slider bed and a black friction surface PVC belt for use in assembly, sorting and inspection. Power Conveyors include permanent adjustable leg supports that adjust from 34" to 38"H for added convenience. Motorized conveyors feature standard 60 FPM non-reversing belt speed using a totally enclosed 1/2 HP, 115/230V, 60 Hz single phase motor. Electric Motor Conveyors include an 8 ft. power cord and on/off switch for 115V use. Quality features include crowned and fully lagged 4" drive and tail pulleys with 1-3/16" dia. shafts, 2-1/2" dia. snub roller and 1.9" dia. return rollers, and pre-lubricated, self-aligning ball bearings. Reversible Conveyors and replacement parts are available; please call for information.
Optional Variable Speed Motor (12-60 FPM) upgrade is available to allow greater flexibility.
Optional Horsepower upgrade is available to increase Capacity (see chart below).
Load Capacity Lbs. Uniformly Distributed Over Length
Horsepower
12"W Belt
20" - 24"W Belt
1/2 (Standard)
250
160
3/4 (Optional)
500
390
1 (Optional)
740
640
1-1/2 (Optional)
1230
1090
2 (Optional)
1680
1580