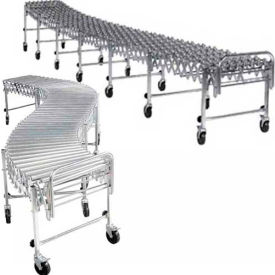 NestaFlex® Portable Flexible & Expandable Gravity Conveyors
NestaFlex® Portable Flexible and Expandable Gravity Conveyors Provide Convenient Material Handling and Transport For Fleet, Shipping, Receiving, and Other Related Applications.

NestaFlex® portable flexible & expandable gravity conveyors are designed to easily unload content from a shipping container to a receiving department for easy access and handling. Swivel casters with brakes on end legs offer stationary control. Roller conveyors are suitable for materials with flat or complex bottoms. Select units include telescopic legs to adjust height for proper material flow. Available conveyor types are Roller and Skate Wheel. Roller wheel types are Polymer and Steel. Weight capacities are 200 lbs. per ft., 226 lbs. per ft., and 376 lbs. per ft. Minimum leg heights are 20", 28", and 36". Maximum leg heights are 28", 36", 44", and 52". Adjustable lengths range from 2'4" - 8'11" to 10'10" to 40'2". Widths are 14", 18", and 24".