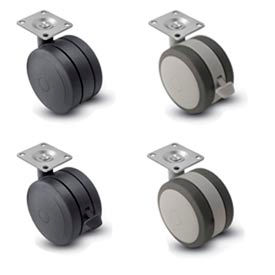 Shepherd® Softech Swivel Top Plate Soft Tread Casters
Shepherd® Soft Tread Casters feature a Swivel Top Plate for Ease Of Mobility.

Use with electronic equipment, medical equipment, audio/visual equipment & furniture. Soft 70-75/A durometer tread is made of high-tech thermoplastic elastomer. Rivet axle provides positive wheel retention. Offers high load ratings with quiet mobility. Twin wheel design for easy mobility.