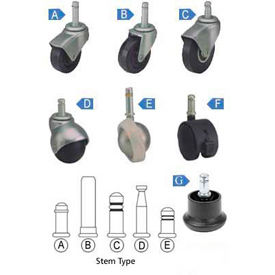 Chair Casters & Stool Glides
Top Quality Stem Casters and Glides replace Worn or Broken Casters for your Office Chairs, Tables, Stools, Carts and Stands.

Stem Casters allow swivel motion for easy mobility. Industrial Chair Casters are available in 5 Stem types and 6 Wheel types for various applications. Nylon Chair Glides allow stationary positioning only.

HOW TO ORDER:
1. Match your Caster or Glide Stem to the drawing. Stem design may vary slightly depending on manufacturer.
2. Measure the Wheel or Base diameter.
3. Select the Wheel composition based upon the Floor surface:
- Use Soft Rubber for Hard Floors, Chair Mats, Tile and Wood Floors.
- Use Hard Rubber, Plastic and Nylon for Carpeted Floors and Soft Surfaces.
4. Order a Complete Set to insure proper mobility.

Note: Stem "D" is for Wood Base Chairs only.