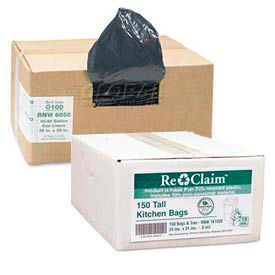 Recycled Trash Can Liners & Garbage Bags
Recycled Trash Can Liners & Garbage Bags Allow Convenient Waste Storage and Disposal for Residential, Hospitality, Landscaping, and Other Related Environments.

These can liners and garbage bags are made using 75% recycled plastic. Garbage bag's flat bottom design holds up to 30% more than star bottom can liners, also eliminates weak spots on bottom seal. Garbage can liners are individually folded and sold in self-dispensing boxes for easy storage and retrieval. Kitchen Bags have a 13 gallon capacity and are 0.70 mil thick. Trash & Yard Bags are 0.90 mil thick and offer a 33 gallon capacity. Recycled Can Liners are available in 1.25 and 2 mil thickness.