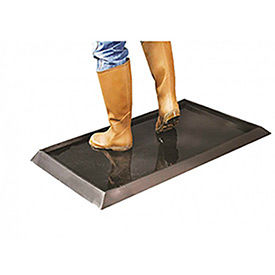 Sanitizing Footbath Contamination Control Mat
Sanitizing Footbath Contamination Control Mats Are Suitable For Kitchens, food production facilities and more.

Sanitizing mats are designed to decontaminate shoes and boots which are among the worst culprits in spreading harmful germs and bacteria in areas that require sanitation
These mats provide a surface that holds disinfectant solutions. Simply step into the mat and bathe harmful germs and bacteria from your footwear in a disinfectant solution of your choice. Sanitizing Footbath mats provide critical protection from potentially deadly contamination across your facility.