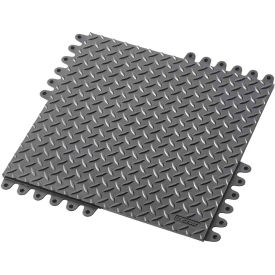 NoTrax® De-Flex™ Anti-Fatigue Modular Mats
NoTrax® De-Flex™ Anti-Fatigue Modular Mat Tile, 3/4" Thick, 18"x18", Black, Each

De-Flex™ is extremely comfortable heavy duty anti-fatigue matting system with popular diamond plate traction surface that can be easily assembled for coverage of large areas or individual workstation mats. The modular rubber tiles are designed with a universal double-locking system on all sides to ensure an extra strong yet seamless connection for fast installation. The platform insulates the worker from the hard ground while the bulleted domes underneath allow the mat to bend and flex with every movement. Unique extended ramp prevents tripping and allows cart access with smart beveling solutions for inside and outside corners. Easily snap together tiles with no male/female ends. Compatible with any De-Flex™ family mats. 571 De-Flex™ Ramps available. Easy to make custom configurations on-site. Intended for dry environments where extreme comfort and durability are critical.