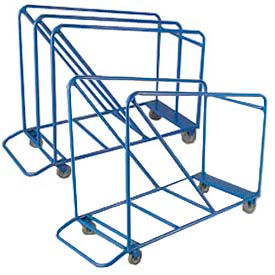 Mattress Moving Trucks
The Perfect Solution to easily Move Mattresses!

A mattress can be a real chore to move, and it usually requires two people to accomplish the job. These trucks are designed to easily transport standard or wider "pillow type" mattresses without straining your back. The platform of the truck puts the load bearing responsibility on the truck instead of the driver. Unique lower handle offers the ability to use the mattress truck in the 2 wheel mode when maneuvering in tight places or down stairways. Truck rolls smoothly on two 4" swivel and two 5" rigid non-marking gray rubber casters. All-welded steel construction with a durable powder coat finish. Shipped assembled.