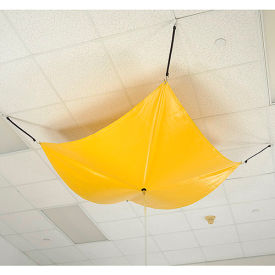 Global™ Leak Diverters
Global™ Leak Diverters Keep Leaks and Drips from Damaging Floors or Stock.< BR>
Global™ Leak Diverters keep leaks away from stored inventory, and eliminates possible chemical contamination. They are made of flame retardant PVC, with sewn hems and brass eyelets for easy hanging placement on ceilings. Available in sizes ranging from 5'x5' feet to 10'x10'. Accepts a standard hose connection (sold separately) to funnel liquid to a floor drain or collection container. Color is yellow.