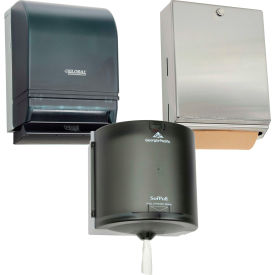 Manual Paper Towel Dispensers
Manual Paper Towel Dispensers Are Available In A Wide Selection Of Brands, Types And Sizes For Various Commercial Or Industrial Applications.

Manual Paper Towel Dispensers are made of Powder Coated Steel, Stainless Steel, Aluminum, Plastic or Oak construction for long lasting durability and dependability. A multitude of reliable brands offer wide selection of Continuous Roll, C-Fold, Z-Fold or Multi-Fold towel dispensing units in various dimensional sizes to meet particular requirement or application. Many models come with secure, lockable covers. Dimensions and color finish vary by model.