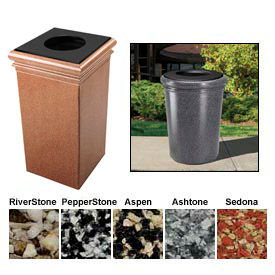 Concrete Waste Containers
Concrete Waste Containers Are Used for Shopping Malls, Banks, Offices, Hotels, Universities and More.

Concrete Waste Containers are made from durable fiberglass-reinforced polymer concrete for long lasting durability and easy maintenance. 30 Gallon Square Containers include an easy-lift funnel shaped lid for easy trash removal and elastic band bag attachment that secures bags in place. 50 Gallon Round Containers include an easy-lift lid that conceals liner and contents for clean appearance, removable heavy duty plastic liner for easy waste disposal and security chain to help prevent theft. Wipe-clean surface resists chemicals, moisture and extreme temperatures. Available in Ashtone, Aspen, PepperStone, RiverStone or Sedona color. Ships Assembled. 1 Year Limited Warranty.