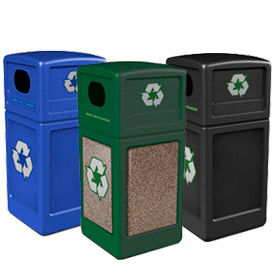 Square Recycling Plastic Containers
Square Recycling Plastic Containers Are Extremely Durable And Made For Outdoor Use.

Plastic recycling containers are great for high volume recycling. Made from UV inhibited, high density polyethylene molding with 25% post consumer recycled materials. Won't rust, chip or dent and is weather resistant. StoneTec® Containers are accented with durable fiberglass-reinforced polymer concrete panels. 42 gallon capacity containers accept standard 45 gallon trash bags (sold separately) and includes a Grab Bag® system that holds bags in place. Recycling receptacle includes weather resistant decals for easy identification of recyclable materials. Double sided lid is perfect for high traffic areas. Each oval opening measures 7-1/2" W x 5 "H and prevents rainwater from collecting in container.