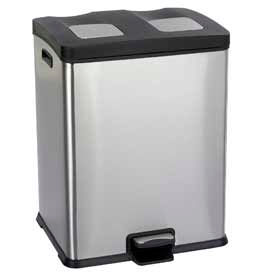 Safco® And Frost Multi-Channel Recycling Stations
Safco® And Frost Multi-Channel Recycling Stations Keep Waste And Recyclables Separate From Each Other All Under One Stylish Lid.

Recycling Stations are made of plastic, steel or stainless steel for long lasting durability and dependability. Half round can available with slot, round or half circle lids (all included) offer 12.5 gallon capacity. Configure two cans together or place against wall for high traffic areas. Right-Size Recycling Station keeps waste and recyclables separate under one lid. Includes two separate rigid plastic liners with built-in bag retainers to hold bag in place. Desk-side design allows latching of two recycling receptacles together for two separate recycling compartments. Paper Pitch creates recycling station at every desk allowing mounting on any square or rectangular wastebasket. Styles are Desk-Side, Dual Recycling, Half Round Receptacle, Paper Pitch, 2- and 3-stream and Right-Size Recycling Station. Available in a variety of sizes to meet room requirements. Color finishes and gallon capacities vary by model.