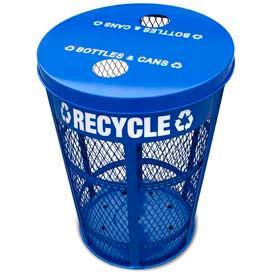 Outdoor Expanded Metal Recycling Receptacle
Expanded Metal Recycling Container is Designed For Recycling Bottles And Cans.

Recycle receptacle features a powder coat finish that is used for maximum wear resistance. Each recycling bin comes standard with nameplate for recycle logo for easy identification. Vertical ribs are added for reinforcement. The see-through mesh is great for added safety in public areas. Recycling trash can with flat top lid has two 4" round openings. Gallon capacity is 48 gallons; measurements are 23"Dia. x 33"H.