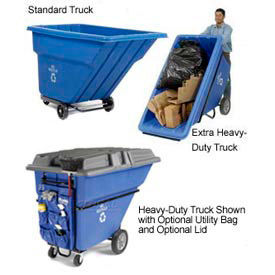 Mobile Recycling Tilt Trucks
Mobile Recycling Tilt Trucks Transport and Dump Bulky Debris.

Mobile Recycling Tilt Trucks are ruggedly built for transporting and dumping bulky recyclable materials. The one-piece, seamless molded polyethylene body cleans easily, won''t dent, corrode or absorb moisture. Convenient push and lift handles provide secure handling. Push handle features integrated trash bag hooks. Include a white We Recycle logo on both sides of these tilt trucks. Standard 1/2 Cubic Yard Tilt Truck features two 9" axle mounted rubber wheels and two 4" plastic swivel casters. Standard 1 Cubic Yard Tilt Truck feature two 8 plastic wheels and two 4 plastic swivel casters. Heavy Duty 1 Cubic Yard Tilt Truck offer steel support reinforcement bands, two 12 mold-on rubber wheels and two 5 rubber swivel casters. Extra Heavy Duty 1 Cubic Yard Tilt Truck has the same features as the Heavy Duty truck plus offers upper steel support bands and a steel impact nose plate. Optional Hinged Lid helps control odors and hides cargo. Utility Bag easily attaches to 1 cubic yard tilt trucks using straps and ties to carry various cleaning products and supplies. Measure 19"W x27"H overall. (Does Not Fit 1/2 Cu. Yd. Model.). Dimensions vary.