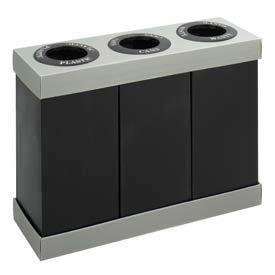 Disposable Recycling Center
Disposable Recycling Center Accommodates Temporary Recycling Applications For Trade Shows, Concerts, Sporting Events, and more.

Disposable recycling centers includes 2 or 3 receptacles made of 100% recyclable polyethylene that is impact and moisture resistant. Receptacles offer 28 gallon capacity each and are joined together using a corrugated plastic base and lid. Lid includes large diameter openings with decals for quick identification. Simple assembly. Additional specifications vary per model.