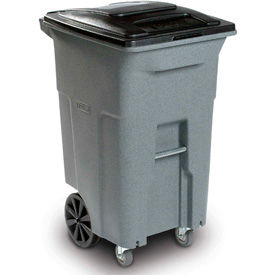 Toter® Mobile Trash Carts
Toter® Mobile Trash Carts Provide Maximum Maneuverability And The Strongest, Most Impact-Resistant Carts In The Industry

Toter® Mobile Trash 2-wheel and Caster Carts are made using an Advanced Rotational Molding process to provide superior strength-to-weight ratio not found in standard injection molded carts. Toter carts are virtually maintenance-free and provide long lasting durability. Attached lids prevent loss. Available in 32, 48, 64 and 96 gallon capacities. Trash Cart and Trash Cart w/Casters available in Black, Blackstone, Blue, Brownstone, Dark Cool Gray, Graystone, Greenstone, Organic Green and Recycling Blue. Wheel diameters range from 4-10 inches. Available with or without casters.