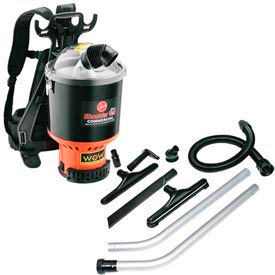 Hoover® HEPA Backpack Vacuums
Hoover® HEPA Backpack Vacuums Provide Mobile Maintenance For Janitors, Cleaning Companies, and more.

Shoulder Vacuum weighs only 9.2 lbs! Hoover vacuum cleaner provides 120 CFM air flow using a 2-stage, 8.5 Amp motor. 6.4 quart capacity tank has a clear dome lid for instant debris inspection. HEPA vacuum cleaner features 3-stage filtration with HEPA filter, shake out cloth bag and Hypercone™ cartridge filter. Ergonomic harness features a sternum clip to secure shoulder straps. Backpack vacuum includes 1-1/2" positive locking hose and an accessory tool kit.

Hushtone™ 6 Quart Backpack increases productivity with this lightweight deisgn and ergonomic harness that enables easy maneuverability with less fatigue, minimizing downtime. HEPA filtration with Hexaguard™ technology and self-sealing bags that trap dust in when disposing. Backpack vacuum features 2 speed motor that provides Hush mode with less disruption at 66 dB and Boost mode for higher performance. Includes anodized aluminum latches and an accessory tool kit. CRI Rated. Limited 2 Year Warranty.