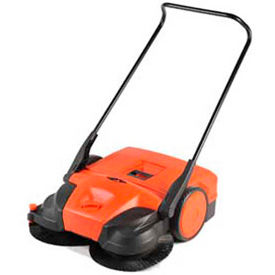 Haaga Power Sweepers
Haaga Power Sweepers Are Used For Store Fronts, Parking Lots, Courtyards And More.

Haaga Power Sweepers are lightweight and easily maneuverable for push-power cleaning of trash, dirt and leaves. The two brushes rotate in opposite directions grabbing the debris directly in front of the sweeper then deposits it into the easy to empty container. Stand-up storage. Dual and Triple Brush models available. Power Sweepers offer up to 38" Cleaning Width and 13-1/5 gallon container capacity.