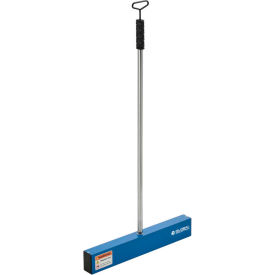 Magnetic Nail Sweepers
Magnetic Nail Sweepers Provide Handheld Sweepers That Pick-Up Nails And Other Debris Off The Floor.

Magnetic nail sweepers automatically pick up steel objects to provide an alternative solution to brush sweepers, vacuums and power sweepers. Most models are ideal over asphalt, concrete, grass and gravel. Load Release Nail Sweepers feature a long handle and load release for ease of use. Internal magnet assembly is housed in heavy 1-1/2" x 3" aluminum. Magnet Nail Sweep is an economically-priced handheld sweeper with a lightweight handle. Made with 1-1/4" sq. aluminum housing. Magnetic Nail Sweepers are USA Made. 1 Year Limited Warranty.