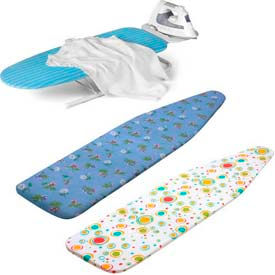 Ironing Board & Covers
Ironing Boards And Covers Provide A Clean, Smooth Ironing Surface For Hotels, Motels, Offices, Commercial And Other Maintenance Facilities.

Ironing Boards And Covers are solidly made for long lasting durability and compact storage. Some models equipped with built-in iron rests or shelving. Includes covers and pads. Ironing Board Covers of various colors and patterns also available in 100% cotton material. Available styles are Basic, Standard, Deluxe, Superior, Foldable, Over The Door, Compact, Tabletop, T-Leg, and Quad-Leg. Dimensions vary per model.