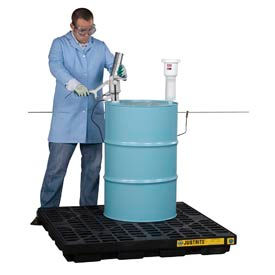 Justrite® Aerosolv® Aerosol Can Disposal System
Justrite® Aerosolv® Aerosol Can Disposal Systems Provide Superior Safety And Savings When Disposing And Recycling Aerosol Spray Cans.

Aerosol disposal systems include a puncturing unit with plastic sleeve that relieves pressure and empties spent aerosol cans. Made using low maintenance aircraft aluminum with a carbide tipped piercing pin. Threads into standard 2 bung openings on 30 and 55 gallon drums (drums sold separately). Accepts use with series 200, 300 and 6 oz. cans. All moving parts are made of type 308 stainless steel. Includes an anti-static wire, safety goggles and a standard coalescing/carbon filter. Aerosolv® Super System features a lockout and shut-off mechanism that seals unit and drum when not in use. Eliminates the escape of hazardous vapors. Padlock with key prevents unauthorized use. Teflon® coating for easy cleaning. Includes an advanced color-changing combination coalescing/carbon filter that signals saturation and eliminate premature changing of upper activated carbon cartridge. Additional Cartridge Filters (sold separately). Complies with EPA 40 CFR 261.23(a)(6).