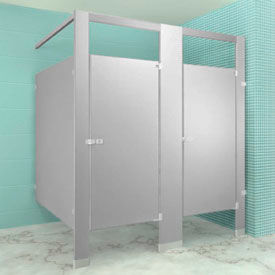 Metpar Overhead-Braced Polymer Bathroom Compartments
Complete In-Corner Bathroom Compartments Create Structurally Sound Configurations For Public Bathrooms & Restrooms.

Poly bathroom compartments create sturdy private bathroom stalls for public restrooms. Bathroom compartments are made using solid polymer resin that is impact and corrosion resistant. Solid 1" thick panels have rounded 1/4" radius edges and 1/2" corner radius for safety. Panels and doors are 55"H and include an aluminum heat sink integrated into the bottom. Pilasters are 82"H. Included pilaster mounting hardware is made of Type 304 stainless steel for corrosion resistance. Top bracing consists of bright anodized aluminum anti-grip headrails with an integral curtain track profile. Pilaster fittings for installation is made using 54"H bright anodized aluminum brackets that allow pilaster-to-wall, pilaster-to-panel and panel-to-wall connections. Doors include an aluminum surface slide latch for privacy. ADA Compliant stalls available. Non-Returnable.