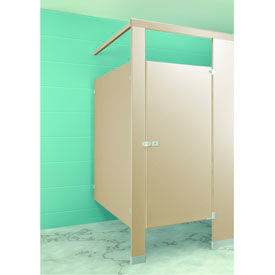 Metpar Overhead-Braced Polymer Toilet Partition Components
This Collection Of Overhead-Braced Polymer Bathroom Partitions & Components Helps Create Private Bathroom Stalls In Public Restrooms.

Overhead-braced design provides a structurally sound configuration created for areas where strength is required. Partitions and components are made using solid polymer resin for impact and corrosion resistance. Partitions and Panels are 55"H and 1" thick with rounded radius corners and edges for safety. Pilasters help support doors and panels for rigidity and ease of installation. Includes Type 304 stainless steel installation hardware for added corrosion protection. Pilasters include a 3"H stainless steel trim shoe to cover bottom mountings. Partition Panels are 1" thick and require Panel to Pilaster Bracket Kits for installation. ADA-compliant panels available. Doors include a wrap-around strike and keeper and an aluminum surface slide latch for privacy. Head Rails are made using brite anodized aluminum anti-grip headrails with an integral curtain track profile.