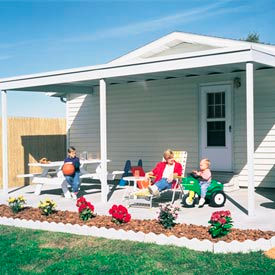 Arrow Attached Carports
Arrow Attached Carports Are Used Awnings To Protect Entranceways, Patio Areas or Vehicles.

Arrow Attached Carports are made with sturdy vinyl-coated, electro-galvanized steel for long lasting durability. Can be used as awnings and attached to home. Carports withstand snow-load of 20 lbs/sq ft. Pre-cut pre-drilled parts for easy assembly. Available sizes are 10' x 10' and 10' x 20'. 15-year Limited Warranty.