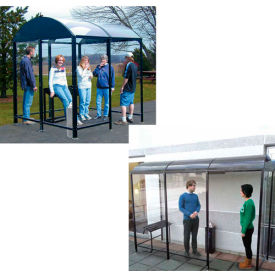 No Butts Bus And Smoking Shelters With Barrel Roof
Smoking Shelters Help Control Designated Smoking Areas While Keeping Smoking Workers And Personnel Undercover.

Smokers shelters help keep companies and businesses compliant with smoking demands and protected from second-hand smoke claims. These smoking huts are made with aluminum framing and clear, break resistant acrylic side panels. Framing features black powder coat finish. Framing and stainless steel feet resist corrosion and rust. UV protected fiberglass roof provides 6'6" of headroom. Open front panel on right side for easy shelter access. 98" overall height. Free Standing Smoking Shelters include a back wall for 4-sided coverage. Back to Wall Shelters include 3 walls to install against building exterior wall. Perch Seating has a sloped surface used to lean against, helping reduce pressure off feet while standing. 46"L x 12"D x 36"H. Easy assembly.