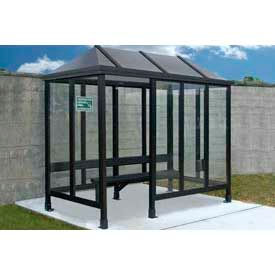 Bus And Smoking Shelter With Vented Poly-Hip Roof
The Slanted Hip Roof Design Of These Smoking Shelters Provides An Attractive Appearance For Any Environment Including Commercial & Residential Areas.

Outdoor smoking shelters help prevents loitering and littering at doorways by providing a designated smoking area. These cost-effective butt stop outdoor shelters help reduce OSHA fines and reduce insurance premiums. The framing system of these smoking shelters is built with industrial grade standards to withstand years of outdoor use. Bus and Smoker Shelters are made with anodized aluminum with 313 dark bronze anodic finish. Includes glass panels that are made with clear 1/4" thick tempered safety glass. Slanted hip roof is made with 1/4" thick double walled polycarbonate. Outdoor shelters are pre-fabricated in sections for easy assembly and crated for low cost shipping. All shelters include an extruded aluminum bench and backrest along the rear wall to provide a comfortable sitting area for smokers. ADA compatible, GSA approved. Choose between Three-Sided Shelters with Open Front, Four Sided Shelters with Left & Right Front Opening and Four Sided Shelters with Left Front Opening. Custom designs and sizes available.