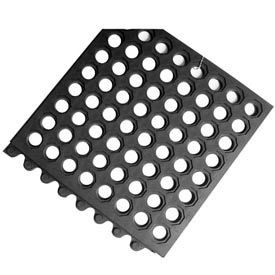 Cushion Expandable Drainage Mats & Tiles
Expandable Drainage Mats and Tiles Create a Thick Mat Network Over Large Floor Spaces.

Mats are available in 3/4", 3/8", 1/2" and 5/8" thickness with molded-in mat connectors for easy attachment and detachment or regular stock size. Tiles are available in 3'x3" interlocking styles, Modular design allows for longer lengths and custom configurations. Molded-in beveled edge provides added safety during use. Solid style matting provide anti-fatigue and resistant properties.Drainage style with holes allow easy diffusion of spills. Mats are available in 3' x 3'or 3' x 5' sizes. Choose from General Purpose ,Fluid Resistant or Grease Resistant .