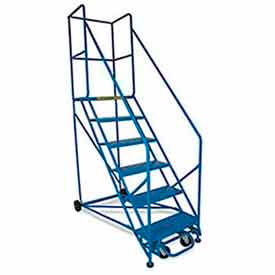 50-Degree Stairway Slope Ladders
50-Degree Stairway Slope Ladders Are Widely Used In Warehouses, Stock Rooms And Other Industrial Or Commercial Applications.

50-Degree Stairway Slope Ladders feature steel round tube construction for durability and structural integrity. Gentle 50-degree stairway angle allows user to turn and descend facing forward for safety. Oversized 9-1/2" deep perforated ladder treads and 42"H handrails offer safe use when climbing. Lock and release step operation keeps ladder from rolling during use. Step quantity range is 4 to 16 with overall height range of 82" to 202". Ladders meet Canada Ministry of Labor requirements, ANSI 14.7 and OSHA 1910.27 standards. FOB Origin.