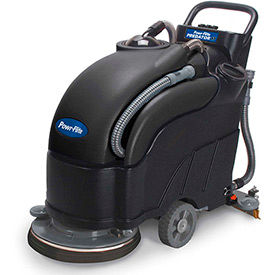 Powr-Flite® Automatic Scrubbers
Automatic Scrubber Provides Increased Productivity And Reduced Labor Alternative To Mop, Bucket & Wet/Dry Vacuums.

Predator 17 features a durable roto-molded housing which is virtually indestructible. Low-profile, ergonomic design provides easy maneuverability. The parabolic swing squeegee picks up all the solution even on the tightest turns. Easy to use, easy to clean and easy to transport, the Predator 17 takes cost-effective floor scrubbing to new levels.
CAS16 micro scrubber is designed to clean any hard floor type including non-slip, safety or textured floors, with exceptional cleaning power. With greater productivity and better performance than traditional mopping, the CAS16 is ideal for small to medium areas such as food service areas and kitchens, entrances lobbies, schools, shops and offices.
Predator 16 Automatic Scrubber, scrubs and wet vacs all in one pass. Narrow width makes it easy to use in more confining areas and it will effortlessly fit through non-standard doors. PAS16 Automatic Scrubber has easy to operate controls with a manual solution control. Foot operated squeegee lift and brush control and the four-wheel design provides complete stability for climbing ramps and inclines. Features Powr-Flite's Silent Run vacuum motor technology, letting you clean in busy areas without disturbing workflow.