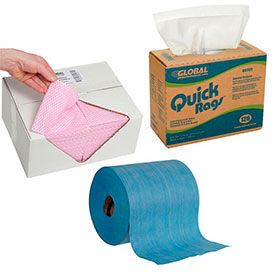 Global Industrial™ Wipers
Global Industrial™ Wipers Are Suitable For Light Duty Cleaning.
Global Industrial™ wipers provide strong absorbency and strength to take in and hold contaminants.
Light duty, general purpose and heavy duty Quick Rags® Pop-Up wipers cover a wide spectrum of industrial cleaning and maintenance operations.
Food Service Counter Towels keep counters and prep areas clean and free of contaminants.