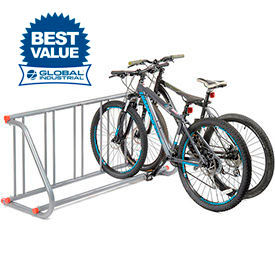 Global Industrial™ Grid Bike Racks
Global Industrial™ Grid Bike Racks Grid Bike Racks Secure Bicycles In Upright Position For Outdoor Storage and Access in Parks, Parking Lots, Sporting Arenas, and more.

Racks are made from galvanized, industrial grade steel for long lasting durability and outdoor use. Available styles include 5-Bike Single, 9-Bike Single, 10-Bike Double, 18-Bike Double, 20-Bike Double and 10-Bike Double-Modern. Double styles accommodate bicycles on either sides. Outdoor bike racks can be installed using 3 optional anchor styles including Cement Anchors for new pavement, Earth Anchors for soil and lawns or 6" Spikes for existing pavement installations. Dimensions vary per model. Easy assembly.