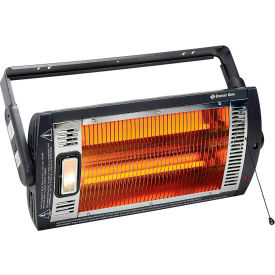 Infrared Patio Heaters
Infrared Patio Heaters Provide Localized Heating For Outdoor Restaurants, Bars, Lounges and more.

Infrared Patio Heaters induce superficial molecules of objects to increase heat for a safe, efficient and cost-effective system. Infrared patio heaters are made with steel, aluminum or stainless steel for long lasting durability and performance. Select units with pull strings are suitable for a maximum ceiling height of 8'-9'. Heaters come in Wall Mount, Ceiling Mount, Umbrella Mount and more. Dimensions vary per model.