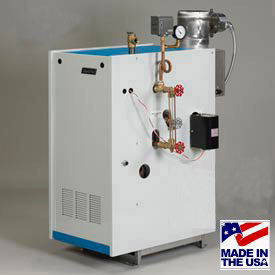 Slant/Fin® Galaxy™ Gas Boilers
Slant/Fin® Galaxy™ Gas Boilers Are Used For Residential Or Commercial Heating Applications.

Natural draft cast-iron boilers offer AFUE ratings up to 83.4%. Preassembled heat exchanger, base, flue connector, gas burners, gas orifices and manifold assembly. Combination gas valve includes manual shut-off, pressure regulator and pilot adjustment. Reliable natural draft boiler is made with a cast iron heat exchanger. Specially tapered thermal pins in the heat exchanger system are shaped to ensure optimal performance. The flue passage design and thermal pin pattern ensure uniform heat transfer, reducing thermal strain and providing long lasting durability and prologing life of the casting. Stainless steel burners are quiet, lightweight, and easy to install or remove. Automatic, motorized vent damper increases efficiency of boiler by reducing standby losses. Motor closes the chimney vent when the burner is off, fully opens it in anticipation of combustion. An interlock prevents burner operation as needed. Metal push nipples expand and contract with the individual boiler section they connect to prevent leaks. Base is made of heavy gauge aluminized steel. Must be installed by a licensed contractor. Limited Lifetime Warranty.