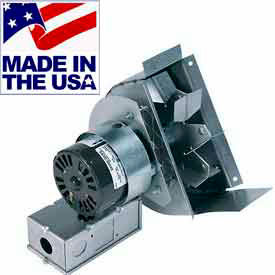 Draft Inducers
Field Controls Draft Inducers Are Used For Use On Oil Or Gas Fired Furnaces, Water Heaters And Boilers.
Field Controls Draft Inducers are solidly manufactured for long lasting durability. Features a
special design for venting single or multiple appliances for enhanced versatility
. Solves drafting problems caused by exposed or short chimneys, undersized vent pipes, long horizontal vent runs and negative building pressures for added reliability. Simple installation for ease of use. Proving switch for use on these units also available. For use with DI-1 through DI-5. BTU capacities are
120,000, 353,000, 835,000, 1,800,000 or 2,800,000
. Watts are
33, 78, 186, 440 or 560
. RPM is
1550 or 1725
. Dimensions vary per model.
Click To View
Field Controls Power Venters
Click To View
Field Controls Power Venter Contol Kits
Click To View
Field Controls Combustion Air Systems