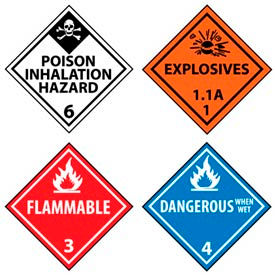 See all 168 items in product family
DOT Vehicle Placards Identify Various Hazardous Materials.

DOT Vehicle Placards are made of Pressure Sensitive Vinyl or Rigid Plastic material for long lasting durability and dependability. Wide selection of 10-3/4 inch square, diamond shaped placards designed to identify various hazardous materials. Messaging includes Combustible, Corrosive, Dangerous, Dangerous When Wet, Drive Safely, Explosive(s), Flammable, Fuel Oil, Gasoline, Inhalation Hazard, Non-Flammable, Organic Peroxide, Oxidizer, Oxygen, Poison Gas, Radioactive, Toxic, and more. 4-Digit Placards are for vehicles dedicated to repeat transport of a single material. Available in wide range of 1-3/4 to 24 inch heights and 4 to 24 inch widths. 14 x 16 inch Slow Moving Vehicle sign also available in vinyl or aluminum material.


Click for more