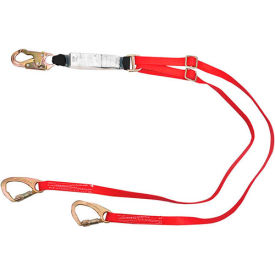 See all 1 items in product family
MSA Lanyards Provide Fall Protection For Applications Including Construction, Industrial, Maintenance, And More.

MSA lanyards are made of nylon for durability and strength. Lanyards ensure body harness and anchor connection for user safety. Heavy-duty protective cover on shock-absorber label increases unit longevity and allows inspection ease. Tear-tape design minimizes fall arrest forces below 900 lbs. Styles are Workman Single Leg Lanyard/Eng/Span Packaging and Workman Twin-Leg Lanyard/Eng/Spanish Packaging. Leg quantities are 1 and 2. Type is Shock Absorbing. Weight capacity is 310 lbs. Color is Yellow. ANSI and CSA approved. Dimensions are 6'L.


Click for more