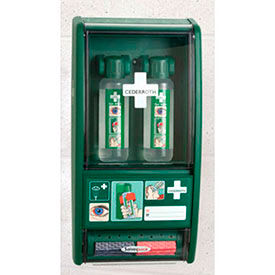 See all 1 items in product family
Cederroth Eye Wash And First Aid Station Is Used For Applications Including Medical, Laboratory, Athletic And More.

Cederroth eye wash and first aid station is made of high quality materials for long lasting durability and dependability. Station is wall mounted for convenient access and efficient injury response. Transparent window allows content and inventory visibility. Upper compartment features a rubber gasket for dust and humidity protection. Centre shelf allows additional storage. Includes 45 plastic and 40 fabric bandages. Stores 2 bottles of eye wash (sold separately). Style is Eye Wash/First Aid Station. Package quantity is 1.


Click for more