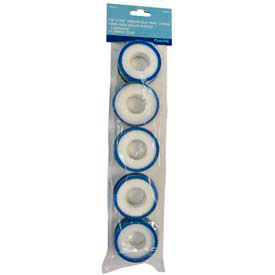 See all 1 items in product family
Thread Sealant Tape Provides A Clean, Positive Seal On Threaded Connections To Help Prevent Leaks In Plumbing Assemblies.

Thread Sealant Tape is specially formulated to resist tearing and stretching for easy, efficient application to pipe threading for long lasting use. PTFE Yellow tape is manufactured especially for natural gas, propane, butane, water, oil and chemical lines. Tape Dope features industrial, high density multi-purpose PTFE construction with self-lubricating and excellent dielectric properties to minimize galvanic action. TFE Pipe Joint tape is weather resistant, flexible, non-stick, non-flammable, low dielectric constant, chemically inert, and usable at low temperatures. Economy-grade, low density tape. Available lengths include 260, 500, 520, 750, and 1296 inches. Tape widths are 1/2, 3/4, and 1 inch. Package quantities vary per model.


Click for more