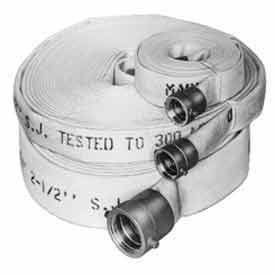 See all 130 items in product family
Fire Hoses Offer Durable Plumbing Assemblies For Fire Departments And Industrial Use.

Fire Hoses are solidly made with nitrile, polyester, polyurethane, and rubber for long lasting dependability and strength. Hoses provide abrasion resistance for extended storage and service life. Available styles are 4-Ply, Double Jacket, Single Jacket, and Standard Nitrile. Connection diameters range from 1 to 5 inches. Available hose lengths are 50, 75, 100, and 150 feet. Tested pressure capacities are 225, 250, 300, 330, 400, and 600 PSI. Color finishes are Blue, Green, Orange, Red, Tan, White, and Yellow.


Click for more