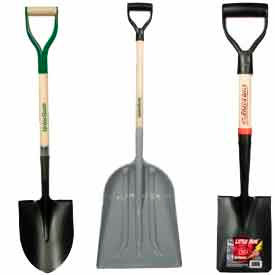 See all 11 items in product family
Shovels And Scoops Are Used For Scooping Soil, Snow, Grain And More.

Shovels feature high-quality handles for reliability. Industrial grade steel, aluminum, aluminum bronze, copper beryllium or ABS Poly blades for long lasting durability. Choose from wood or fiberglass handle material to fit job needs. Some shovels and scoops are non-sparking for use in hazardous work areas. Available in a wide variety of shovel sizes and shapes.


Click for more