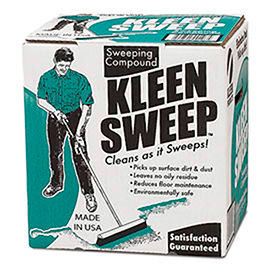 See all 1 items in product family
Kleen Sweep Sweeping Compound is Perfect for Cleaning Hard Floors in Warehouses, Shops, Garages, Basements, and Construction Sites

Non-petroleum based Kleen Sweep Sweeping Compound picks up surface dirt and dust without leaving an oily residue. Environmentally safe material includes special detergents for maximum cleaning power. Safe for all hard floors including concrete, wood, tile and vinyl. Non-combustible. Compound is not oil absorbent.


Click for more