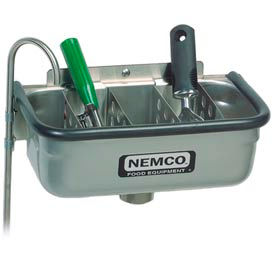 See all 2 items in product family
NEMCO® Ice Cream Spade Wells Maintain Optimum Cleanliness Of Ice Cream Spades And Scoops.

NEMCO® Ice Cream Spade Wells are used for ice cream shops, kiosks or concession stands, especially those that see heavy traffic. Also great for food court operations that use scoops to serve potato, macaroni and other cold salads and slaws. 300-series stainless steel construction, versatile mounting capabilities and optional left- or right-side spigot orientation adapt to any commercial kitchen. Continuous flow of water eliminates flavor transfer and cross contamination. Ice Cream Spade Wells are built with 3/8" diameter spigot for running water. Each unit is easy to turn off, drain and disassemble for cleaning. Available in a variety of sizes. NSF® certified.


Click for more